Safe road transport and reliable distribution across Europe
A complete transport solution, sustainable road transport and more
From our locations in Terneuzen, Vlissingen, Etten-Leur, Apeldoorn and Gent (B), we have more than 200 trucks making their way to satisfied customers throughout Europe every day. We offer transport solutions in various markets, including the paper, metal, chemical and construction industries.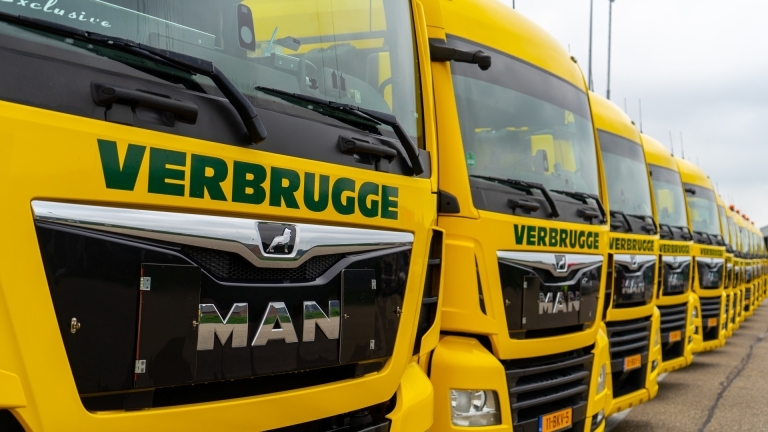 Convenience and service are top priorities 
In addition to high quality and safety, you can rely on the best services and the greatest convenience. We offer a complete transport solutions throughout your entire logistics process. You will have one contact person who arranges it all.
We work with a Track & Trace system, so that we can always give you real-time information about your goods. In addition, we can link our operational software to your systems, so that you always have the most up-to-date information at your disposal. We are currently working on the introduction of an electronic CMR waybill.
 
Sustainable high-cube transport 
Our high volume mega trailers have been specially designed for high-cube freight up to 120 cubic metres. 
We also have Eco-combinations (LHVs) with a total length of 25.25 meters. By using these extra long combinations in combination with the latest EURO 6 engine, we ensure a significant reduction in our CO2 emissions.
Liquid bulk
We have a fleet of tank trucks and tank containers for the transport of both non-hazardous and ADR-classified products throughout Europe. 
Dry bulk
Daily our trucks service the petrochemical industry (PE, PP, PET) and supply minerals such as soda ash and nepheline.
Multifunctional trailers for oversized cargo
Our multifunctional cargo trailers enable us to transport items up to 28 metres long and 3.50 metres wide. In addition, we can offer exceptional transports for special projects. 
Multimodal container transport
We transport all sizes, including high-cube containers. If desired, road transport can be combined with transport by sea, inland waterway and rail. You can also make use of our extra services, such as container packing, stripping, handling and storage.
Packed goods | Ahead in securing cargo
Do you want to have your pallets, bundles, units, roll containers, paper reels, sheets or coils safely transported from A to B? We are fully equipped to transport various types of packed and unpacked goods. Our vehicle fleet includes tautliner trailers and trailers with a Joloda system.
We offer the right cargo securing solutions for safe transport. In addition, our drivers receive continuous training on loading, stowing and securing cargo. This prevents damage to the cargo. 
Delivery to any location 
With truck mounted forklifts, our drivers can ensure that your cargo is unloaded at the desired location. These portable forklift trucks can be used for various purposes. 
Fact sheet
Over 200 vehicles and 700 trailers 
Taut liner trailers equipped with Joloda / trailer skate systems 
Volume combinations 
LHVs (Eco-combis) 
Tank containers for liquid transport 
Tank trailers 
Bulk silo trailers 
Flat floor trailers 
Coil trailers 
(Electric) Portable forklift trucks
Hazardous (ADR) and non-hazardous