Team Verbrugge | Always looking for new talent
We are always looking for thinkers and doers who are committed to developing both themselves and the company in a range of different roles. There are various MBO and HBO internships every six months. This is a great period for new talent to get to know our family business and for us, as a company to get to know new talent.
Meet our colleagues
Luc | Terminal worker
"We work outdoors and in shifts a lot. This is physically demanding. Operating in the hold of a vessel, on a tug master or forklift. Operating within the wood pulp, steel or containers. No week is the same and the variety keeps it challenging for me. Together we keep an eye on each other and our safety. We always work in a team."
Lucien | Truck driver
"A job with a lot of freedom. You really get everywhere, from the city to the countryside. The variety in the work ensures that you always keep enjoying the work. Of course, you have to deal with traffic jams and other factors that can mess up your entire schedule. You have to be able to deal with that and adapt where necessary. After all, the cargo has to arrive safely at the customer."
Allan | Shipping agent
"We handle all formalities for the ship and the cargo with various authorities such as Pilotage, Port Authority, Customs and ship supplies. Every day we meet new people. I think it is important that you can enjoy your work. As a team, we believe in each other, and together we make clear team goals."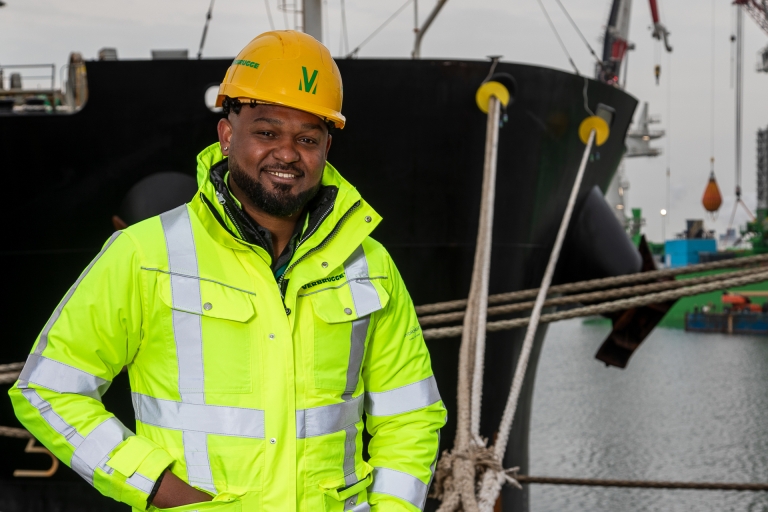 Ditmar | Operations Manager
"Working with people, achieving success with my teams and guiding large-scale projects from plan to implementation, that's my focus. I think it is important to work together as a team towards common goals, where employees are valued and given the space to develop themselves."
Iwona | Customer Relations Team
"Logistics is where I belong. Dynamics, varying activities and challenges every day. Verbrugge is an impressive, tough and informal working environment, where I have daily contact with customers and coordinate the unloading of ships and the distribution of goods together with my colleagues."
Christian | Projects
"During various projects, we ensure that the construction and demolition work in the implementation phase runs smoothly. We are mainly concerned with the planning, safety and quality of the work delivered. To work with many different types of people, in which everyone has their own qualities, but all have the same goal, I think is really important. Together we make sure everyone gets home safely."