Your European hub for wood pulp
Verbrugge has one of the largest designated terminals for wood pulp in the world. Our terminals in Vlissingen are also the wood pulp hub for Europe.
From our terminals, we have daily barge connections with Rotterdam and Antwerp: an excellent opportunity for exporting pulp by container. In addition, our terminals in Vlissingen have excellent rail connections for transporting pulp by railway wagons. We have daily scheduled train connections to the European rail network.
Handling and storage of paper
Do you want to have your paper reels stored and distributed? Our terminal in Terneuzen specialises in these services. Every week, we receive paper (kraftliner, newsprint, liquid packaging board, sheets) from North America, Russia, South America, Portugal, Finland and Sweden.
The paper reels are delivered by ship, train and truck. With our well-trained staff and special equipment, we ensure efficient and careful handling, by both RoRo (Roll-on Roll-off) and conventional means.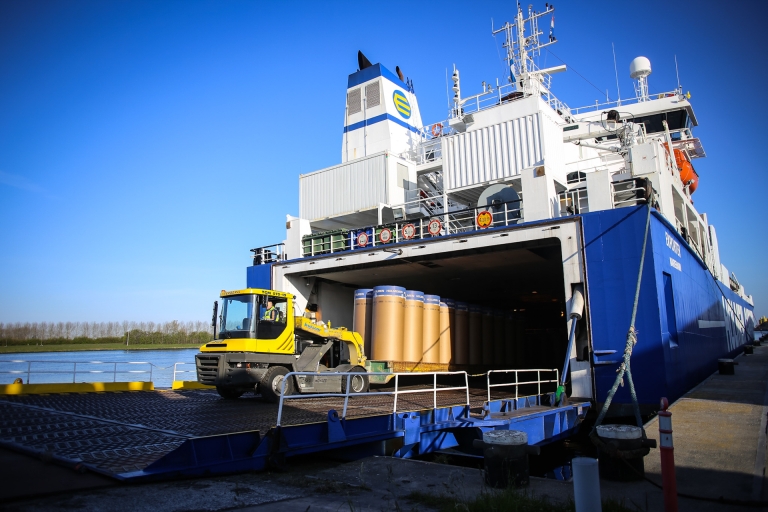 Value added services
Is one of your paper reels damaged? At our terminal in Terneuzen, we can provide various options to repair, repack, rewind or adjust damaged rolls of paper to meet the correct width and diameter.
Plywood and Timber
Other wood products, such as packages and bundles of plywood, boards and beams, can be stored and transshipped at our terminals. We will offer you a covered or non-covered storage area for your products, and we can distribute your goods throughout Europe at a competitive rate.
Transshipment by truck, train, barge or container
The transshipment of your products takes place by truck, train, barge or container. We deliver to destinations throughout Europe. For containers, we have a daily barge connection with Rotterdam and Antwerp.